The future of work!
TalEction is a Talent Learning Suite (TLS) - a next generation Human Capital Management (HCM) System based on Learning, Values and Culture.

5.500 Users

20+ different Tests
(research based)

18 different Games
(neuroscience based)

19 different (career) Simulations
Below you can see an overview of all the product-areas that the platform covers, use this as a launchpad for your exploration of TalEction.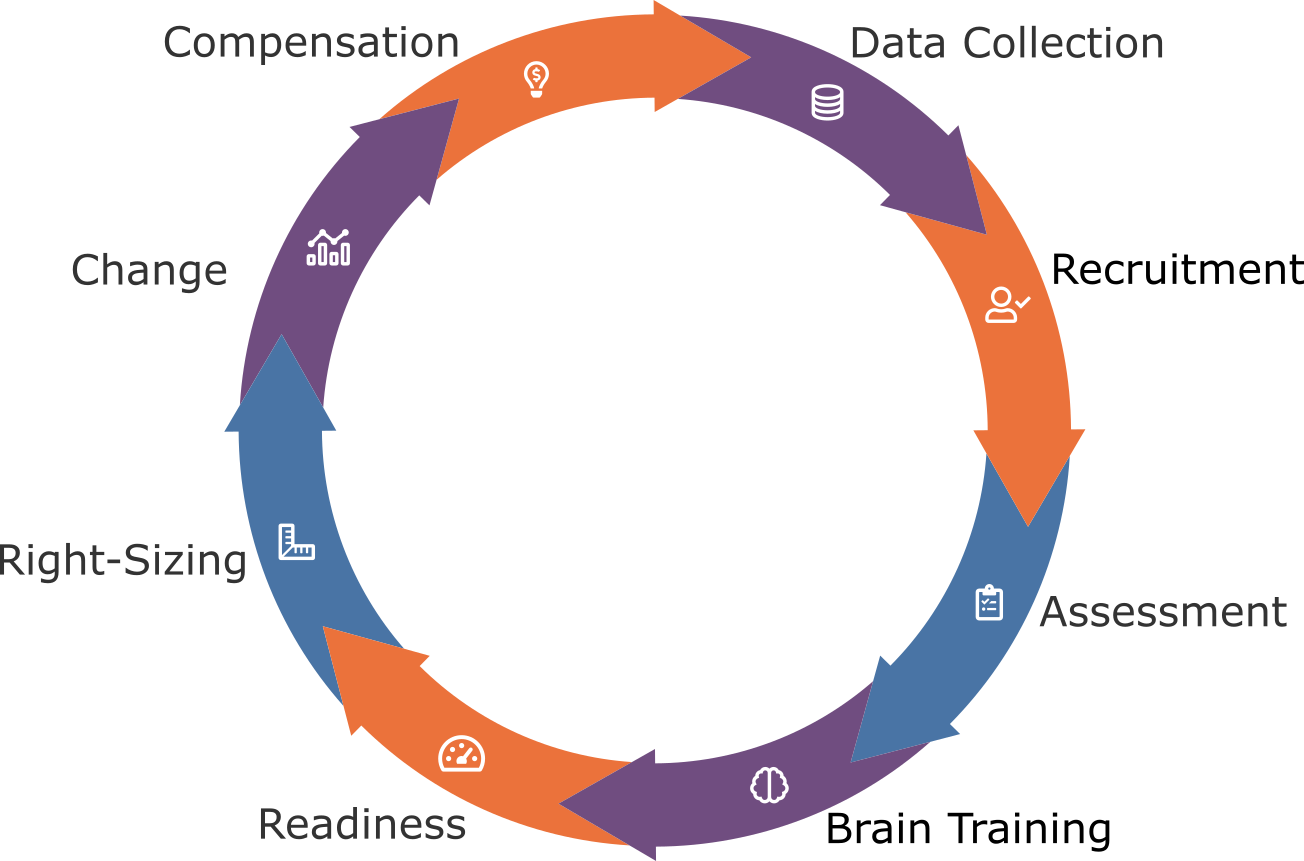 Data Collection: Master Data using a variety of Collectors

Factual and bias free - bridging job and people; scientifically validated surveys, tests and games (ex. culture, strategy).
Goto Data Collection
Recruitment: AI supported Selection of top Talent

Select and Apply our scientifically based AI algorithms to reach top talent and identify and select the right candidates for the job.
Goto Recruitment
Assessment & Development: Evaluate your employees, teams and unleash their full potential

Organisational-and people assessments, development, appraisals and career planning.
Goto Assessment
Brain Training: Game based virtual Brain Training

Fight fear with values, reduce stress, strengthen resilience and get rewarded. Explore and Strengthen: Awareness, Core Skills, Cognitive Flexibility and Attention.
Goto Brain Training
Readiness: Analyse you own or your employees (teams) ability to reach a target (change)

Impact assessment, measure Business Readiness for a desired Future State (Vision, Strategy).
Goto Readiness
Right-Sizing: Analyse and Apply factual smartness to your Organization

Reduce hidden cost (in average 40%). Identify, develop and unleash your employees full potential - and create engagement in the process.
Goto Right-Sizing
Change & Performance: Track, Analyse and Manage organizational and individuals progress

Track change journeys, measure effects, develop desired culture - team based learning indicators (potential, progress and target).
Goto Change
Compensation Management (Under Development): Pay your employees based on their Learning indicators

Pay employees and teams using the Learning indicators (potential, progress and target) as an evidence of adaption, change and high performance.
Under Development
Invest in yourself!

Empower your smartness!
Create Account

The solution can be used as an End-to-End solution or you can go in a select the individual Steps and Elements you need for a specific purpose ex. if "You want to do a recruitment (candidate selection) based on culture fit alone" or "You have a new vision and strategy and you want to assess your teams readiness for the change journey".